NEW RELEASE: Horse Radish: Jewish Roots
By Rachel Farber
Compiled and Edited by Sandra R. Berlinger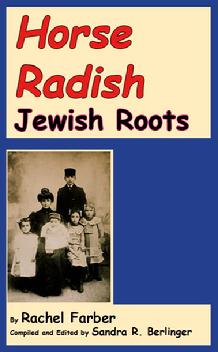 Rachel Farber's poignant, funny, brutally frank memoir of life as immigrant, from her tiny village in rural Poland/Russia to busy early-Twentieth Century America, to marriage, heartache, and finding peace amid chaos, speaks for a generation that made this amazing journey.  It is an American classic on a human scale.
Reviews
"I laughed so hard I forgot to cry.  This story is about living hard times and finding humor in dire places — the things that keep us sane."
— Kenneth D. Ackerman, author of BOSS TWEED, The Corrupt Pol who Conceived the soul of Modern New York
"Sharp, spicy, pungent, and finally moving…. Rachel Farber vividly evokes a unique life story as well as the broader experience of Jews who braved their way from Eastern Europe shtetls to the teeming tenements of old New york City.  A delicious treat."
–James G. Hershberg, author of MARIGOLD, The Lost Chance for Peace in Viet Nam
---
See my interview on Horse Radish: Jewish Roots in the Washington Independent Review of Books.
---
Buy the Book